Introducing Window Medics, LLC & Owner Bryce Hinrichs
Columbus Norfolk Moms is passionate about supporting local. Small Business Saturday is all about highlighting local businesses in the Northeast Nebraska area and keeping all of you in the know!
Like most amazing businesses that I find, I found out about Window Medics from scrolling on Facebook! Window Medics' main cleaning focus was windows, which was unlike any other business I had found. Later, I realized Window Medics also offers Pet Waste Removal and Christmas Light installation.
I chatted with Bryce about his inspiration to start this unique business and his passion for continuing to serve Northeast Nebraska.
Where are you from originally and where do you call home now?
I was born and raised in Hastings, NE. Lived in Lincoln and Omaha for college and now, we live in Norfolk, NE
Are you a parent? How old are your kiddos?
Yes! Proud dad of a wild and athletic 2 ½ year old boy, Beckett. We also have our second Boy on the way as well, due in June!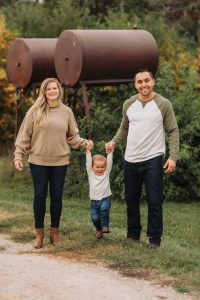 When did you start Window Medics, LLC in Norfolk and what was the inspiration behind starting?
I began my business in November '21 on an entrepreneurial itch I've had for a long time. Once I finally found a great niche I was interested in, I went full-force into it!
What services do you offer?
We offer three main types of services:
1) Window Cleaning
2) Pet Waste Removal
3) Professional Holiday Lighting Installation ( Winter '22)
What areas do you service in Nebraska?
We service pretty much the entire Northeast NE corridor. I go as far south as Columbus and as far north as Yankton. There are travel fees associated with traveling a distance, but that is mitigated by the customer bringing on their friends/relatives to get services as well in the same day.
What was your inspiration behind the name?
Window Medics came to me while going through the grueling process of finding the right name that fit what I was trying to do, while also being a "play on words" as I am a full-time Firefighter/Paramedic with the City of Norfolk, NE.
What did you do before starting Window Medics?
I currently still am a Firefighter/Paramedic with the City of Norfolk. I've been there for 5 years. I'm also a Critical Care Flight Paramedic with the Nebraska Army National Guard. I've been in the Guard for almost 14 years now.
How else are you involved in the community?
We support local community events a lot with The Norfolk Firefighters Union – Local 1005.
How has the Norfolk community impacted business?
The Norfolk, and greater Northeast NE, community has been absolutely fantastic and has had a great impact on the immediate success of my business. When I started, I was unsure about the interest level of some of my services from people in the community, but it was readily apparent that our community was underserviced in these areas and was ready for a business like mine to pop-up!
What's your favorite thing about being a small business owner?
I love the new-found motivation it gives me. I'm literally constantly thinking of ways to improve this business. I'm constantly scanning for new technology to make my life easier and streamline the process of the service industry.
Best advice for someone wanting to take the leap of faith into entrepreneurship or wanting to open their own business?
My favorite saying is "The hardest part about working out is walking through the gym door". Same goes for businesses. The hardest part for me was pulling the trigger and going "live" on Facebook. I remember the day I activated my (Klean Views) account and posted in the local area exchange pages. I was really nervous and it took some pep talking to finally pull the trigger to click the button and put myself out there. Since then, I haven't looked back and continue to grow and learn every day
Future plans for your business?
Immediate plans would be to scale myself out of doing 100% of the work and onboard some employees to assist and help grow the brand/company. I thrive in leadership roles and I would love to be able to provide financially for a family while also giving them an awesome, relaxed work environment to be in.
Also, soon I plan on spinning the Pet waste removal service into its own name to create its own brand and marketing strategy. I have a pretty funny name for it so I look forward to going Live with it.
Any special sales or deals Columbus Norfolk Moms mamas can take advantage of?
Mention you saw Window Medics on Columbus Norfolk Moms to get $10 off your first service fee!
We also offer discounts for Quarterly service window cleaning.
When you refer a friend for Pet Waste Removal services, you earn ½ off your next month! (Just ensure they mention your name)
Based Out Of: Norfolk, NE
Serves all Of: Northeast NE
To learn more about Window Medics:
You can find and follow Window Medics, LLC on TiK Tok or Facebook.